Some cargo is simply too large or too heavy for conventional shipping methods and these movements require special attention. Rather than booking allotted space on a vessel or aircraft, you may be required to charter the whole boat or plane!
One aircraft that we have recently used for this purpose is the Antonov An-124.
Do You Need to Charter an Antonov An-124?
As you can imagine, the majority of cargo being air freighted worldwide will not require the services of an An-124. This aircraft is typically used for ad hoc movements, where the cargo being sent is extremely heavy and / or large.
The two cargo hatches are where the An-124 is able to showcase its unique features. The fuselage nose can be hinged upward to open the front cargo hatch and the process is made more efficient by the rear cargo hatch in the rear fuselage which allows for faster loading and unloading.
An onboard system of cargo handling equipment makes the entire process possible without the help of ground facilities.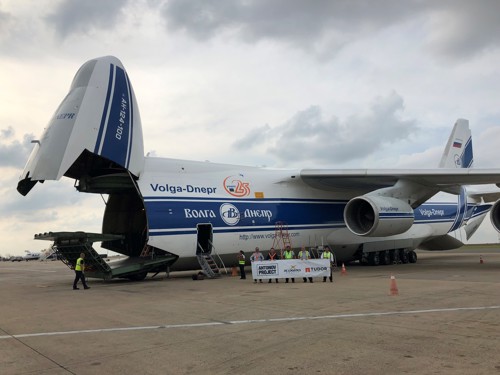 How Much Weight Can an Antonov An-124 Transport?
An aircraft of this size and cargo capacity has some impressive facts and figures that we wanted to share. Whether you're interested in the freight industry, the aviation industry or are simply here out of pure curiosity, this is something that does not fail to impress.
The An-124 was the first of its kind when built and was unbeatable in regard to cargo capacity - it has the ability to transport 150 tonnes of cargo. The aircraft contains a quad jet and is the second largest plane in the world behind its larger sibling, the Antonov An-225As of 2013 this model of aircraft has visited 768 airports across over 100 countries.
Antonov An- 124 World Records
It isn't hard to believe that something with such presence has broken world records in its lifetime, however, the An-124 planes as a group have actually broke a staggering 30 combined.
 Some of the most significant honours the aircraft hold include:
- An eye watering 171,219kg of cargo being carried to an altitude of 10,750m in 1985 (that's around four standard family houses).
- A 20,161km route was flown in 1987 without a single stop for refuelling - the flight, which took 25 hours and 30 minutes to complete is still a complete rarity of its kind in today's much advanced aviation world.
- In 1990, the monstrous plane took on an around the world trip over both the South and North Pole setting a record breaking average speed of 689.1km per hour.
We could go on, but you get the idea, the An-124 is truly a one of a kind within not only the aviation industry, but the transport industry, too and we here at Tudor International Freight are proud to play a part in its journey.
 If you have unusual cargo and you are unsure of how to transport it let us know - mail@tudorfreight.com  
 For more information regarding air freight services, please contact a member of our team on: sales@tudorfreight.com